Mill Dene Garden, School Lane, Blockley, Moreton in Marsh, Gloucestershire, GL56 9HU
Tel: 44(0)1386 700457 | Email: info@milldenegarden.co.uk
Web site design: Eagle Design Ltd | www.eagledesign.net | 0845 2308955

RHS Partner garden - Mill Dene Garden - Hidden in the Cotswolds - +44(0)1386 700457

APRIL

April blazes with yellow: daffodils, the yellow tulips 'Golden Apeldoorn' lining the Rose walk, the walls hang with purple aubretia. Hyacinths and Osmanthus scent the air almost overwhelmingly. Hellebores and Euphorbia lend a skittish green background to all this colour. Left: Box, aubretia, bergenia 'silberlicht', arabis and alyssum saxatile overhang the sluice.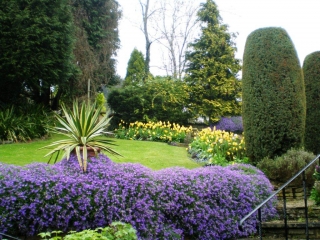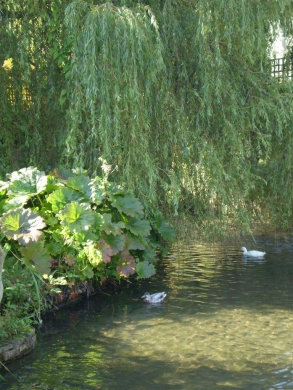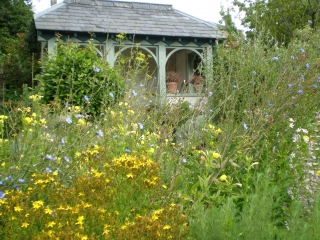 MAY

More of the 500 tulips are gradually coming out, backed by the forget-me-nots and Chamycyperis 'Fens Ruby'. This makes an acid green underplanting for Tulip'Queen of the Night' who is that wonderful dark maroon. The Prunus family are looking wonderful. Chaenomeles 'Rowallan' is tucked up against the house front. The stream garden will have the Lysichitons, ferns, primulas and enormous burdocks. The Climbing clematis, 'Elizabeth Montana' will cover the leyandii and swings around scenting the air.
JUNE

Rosa 'Canary Bird' will have finished now but all the other roses such as Mde Gregoire Stachelin, pictured on the left, will be bursting out especially if the weather is like last year. We have completely remade the Rose Walk. Seventy five Rosa 'City of London', 8 Rosa 'Rhapsody in Blue' and 11 Weeping standard Rosa 'Super Fairy'. These are added to the old R. 'Goldfinch' climbing up the hawthorns in the north garden, and R. 'Compassion' creeping through the Actinidia on the side of the house. The white border by the Garden Room has the enormous Crambe cordifolia like huge umbrellas, white potentilla and Philadelphus scenting the air.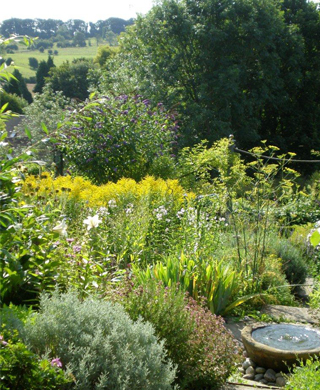 JULY

The mood changes. The roses will still be looking good and the School Lane border will be coming into its own. It is designed to be light and dark pink Hollyhocks, which we love, bob up helping to keep up the garden's image of being an 'English Country Garden' in the Arts and Crafts tradition. Buddleias, blue Aconitums, huge grey Onopordums (thistles), perennial Geranium, pink Penstemons flatter the colour scheme.
AUGUST

The School Lane border is still powering away, but now the high summer 'hot' borders on the Cricket lawn come into their own with dark red dahlias, 'Bishop of Llandaff', the orange D. 'David Howard' and yellow cactus dahlias, will burst into the garden. Lychnis, Solidago, hydrangeas, Verbena bonariensis, crocosmia, lilies and much more fill the garden with brilliant colour.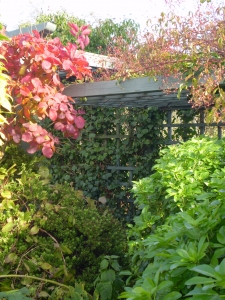 SEPTEMBER

still has all the Summer/Autumn borders . The old fashioned roses, 'William Lobb,' and 'Isphan' and hopefully the 'City of London' will have their second flowering and the dahlias will still be in flower. The stream area now has the Lobelia cardinalis and L syphlitica showing dark red and the Darmera leaves have joined the Gunnera manicata, nearly screening the grotto.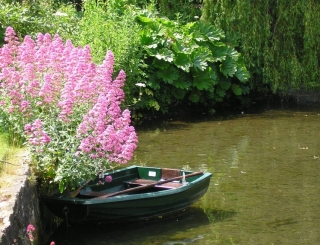 School visits
can be arranged with pleasure. Please ring Wendy Dare to arrange.

RHS Partner garden