Mill Dene Garden, School Lane, Blockley, Moreton in Marsh, Gloucestershire, GL56 9HU
Tel: 44(0)1386 700457 | Email: info@milldenegarden.co.uk
Web site design: Eagle Design Ltd | www.eagledesign.net | 0845 2308955

RHS Partner garden - Mill Dene Garden - Hidden in the Cotswolds - +44(0)1386 700457

Groups are welcome by arrangement.

In addition to regular open times Groups are welcome most days.

We are closed on Sundays and Mondays unless you pay us a great deal of money!!!!!

A 'group' is over 20 people and the rate is £6 per head.

A 10 minute talk can be given by Wendy Dare on the creation of the garden, from dereliction to what it is today; from total ignorance to being on an RHS committe. This is a fun 10 minutes and costs £25.
Refreshments, tea, coffee, soft drinks and biscuits are always available on a 'do it yourself' basis in our Garden room along with Just Rachel local ice cream.

Guidance for Coach Drivers coming to Mill Dene Garden.

May I reiterate the routine for the coach driver?
He needs to ring us 10 minutes before arrival. We will then wait for him at the junction of B4479 and School Lane and help the passengers de-bus and guide the traffic round the coach. We then tell him where to park.
There is no coach parking at Mill Dene Garden or in School Lane or in the village as all are inaccessible. Coach parking is provided at Moreton-in-Marsh.
Please note we are unable to accept payment by card, but cash, cheque or BACs are fine.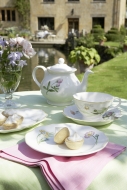 School visits
can be arranged with pleasure. Please ring Wendy Dare to arrange.

RHS Partner garden