Mill Dene Garden, School Lane, Blockley, Moreton in Marsh, Gloucestershire, GL56 9HU
Tel: 44(0)1386 700457 | Email: info@milldenegarden.co.uk
Web site design: Eagle Design Ltd | www.eagledesign.net | 0845 2308955

RHS Partner garden - Mill Dene Garden - Hidden in the Cotswolds - +44(0)1386 700457

What to do in the garden


One can wander at will or follow the trail which we provide. This passes the vegetable garden and the swimming pool and then moves up to the North garden where the new area is under cultivation. This has opened up surprising views over the local hills and pasture and has been great fun to plant up. We haven't finished yet.

The return journey down the valley side crosses the brook either by stepping stones or by little bridge.

The noise of water is increased by the grotto waterfall and a rather mysterious mist. Sit and enjoy.

The other side of the valley passes under a pergola with Rosa Rambling Rector scenting the air in June and on to the Rose Walk.

The next terrace has the Cricket lawn and a tiny Pavilion and right at the top of the garden (500') is the ornamental Fruit Garden and the Herb garden. The 11th century village church acts as a back drop and the views are over the Cotswold Hills to the ancient Salt Way. Sit and enjoy again.

This will take about one and half hours and then a welcome cup of tea will be found in the Garden Room. This can be drunk by the mill pond watching the trout and, if lucky, with the kingfisher. The family Birman cats are quite likely to have taken the best seats.

Enjoy and escape from the world!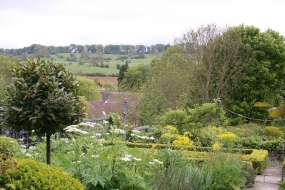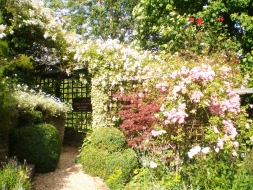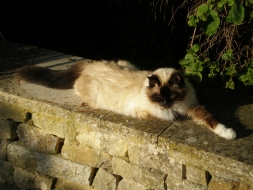 RHS Partner garden